Implementing SimplyConvert's chatbot to intake new clients through your website is a significant first step towards becoming a more client-centered law firm. But to ensure you're making a great first impression when it comes to new clients, you need to take the time to look at your entire intake process from start to finish.

Before you begin, it's important to remember the following guiding principles:
Approach with empathy.

The point of this exercise is to improve your client's experience. Think about the best and worst client experiences you've had in your own life and put yourself in the client's shoes. Ask yourself what parts of your firm's intake process work really well and what parts need improvement.


Look for opportunities to incorporate technology.

When the right tools are implemented the right way, technology can help you make a great first impression on your new client. Look for parts of the process that can be automated for time and efficiency gains.
With that, here are five tips to make sure your client intake process sends the right message about you and your firm and reassures your clients that they've made the right decision in hiring you.



TIP #1:
Write/draw out your new client intake and onboarding process from start to finish and include how long it takes to complete each step.
Once you have your process in front of you, examine each step through the lens of a new client.

Look at how much time passes between a client signing your retainer agreement and the first live conversation with you or another member of your firm. What can you do to shorten that timeframe?
Look carefully at the language in your written communication and ask yourself whether it's understandable. Does it contain legal jargon that the average client wouldn't understand?
Use our example flowchart as your starting point. We've included all the client intake steps that the SimplyConvert platform handles for you. Simply add the steps that your firm takes after SimplyConvert signs the client and notifies you of the new case.
TIP #2:
Customize your drip follow-up campaigns and don't be afraid to get creative.
Firms using Sim
plyConvert have access to pre-written drip messaging that addresses common concerns and encourages prospective clients to sign a contract to retain your law firm. Once a client signs the contract, SimplyConvert's template follow-up email provides them with a copy of the agreement, contact information for your firm, and guidance on what will happen next.

Beyond simply including your firm logo, you have the ability to fully customize these messages with your own content and media. For example, you may wish to include a link to a blog post you wrote explaining a certain topic when encouraging a prospective client to sign your retainer agreement or include a video introducing key staff members in your welcome email.

Mike Morse Law Firm created a welcome video to provide clients with an immediate touchpoint after they sign a contract through the SimplyConvert client portal. The video tells their clients what to expect next from the firm and communicates important information about what clients should do if they are contacted by parties affiliated with the defendant. Click here to hear how Mike personally introduces his firm.
The sky is the limit when it comes to customizing your drip communication campaigns on the SimplyConvert platform.
TIP #3:
Follow up with new clients as quickly as possible.
We can't emphasize this enough: your timeliness in reaching out to a new client after they sign your retainer agreement can make or break your relationship.

SimplyConvert notifies you the instant a contract is signed. From there we recommend creating a procedure to ensure that each new client hears from you according to the follow-up standard you set. Automation tools can help ensure that your follow-up process happens no matter what — whether you're out of the office or attending to other matters.

It's up to you to determine your follow-up time standard, but the survey results for consumer expectations when hiring a lawyer in Clio's 2020 Legal Trends Report can serve as a helpful guide. Clio asked consumers how quickly they expect a response when leaving a phone message or sending an email to a firm they're considering hiring. 10% of respondents said they expect a response within an hour, 24% within a few hours, and 45% within 24 hours. That means waiting more than 24 hours to respond misses the expectations of 79% of those that reach out. Only 5% said they would expect a response beyond 72 hours.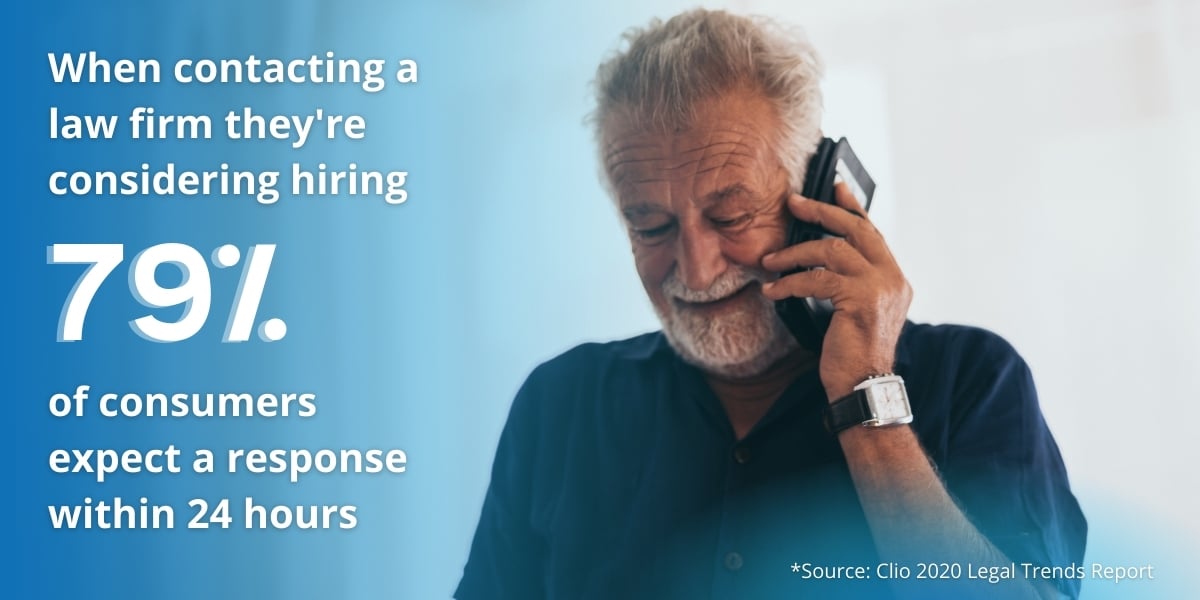 TIP #4:
Simplify meeting scheduling.
There's no need to go back and forth over email trying to nail down a time to meet. Set parameters for the times you are available for new client calls in your calendar and connect it to a scheduling app such as Calendly or YouCanBook.me. You can then include a link in your email and allow the client to select a time for your first meeting. (Another tip: be sure to turn on the meeting reminders to remind the client about the meeting ahead of time.)
Think about whether you want to give your clients the option to meet in person or virtually. As Clio's 2020 Legal Trends Report indicates, many clients may opt for virtual meetings when given the choice:
37% of consumers now prefer videoconference when meeting their lawyer for the first time

50% of consumers prefer to meet via videoconference for follow-up meetings

52% of consumers believe that most legal matters can be handled remotely.
If you plan to conduct the meeting virtually, be sure to plug in your Zoom or GoToMeeting credentials so that the app can drop a meeting link and call-in information right into the calendar invite.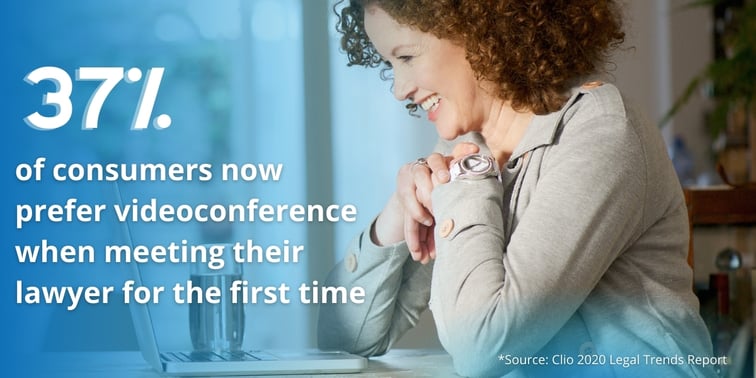 TIP #5:
Prepare for your first conversation with the client.
A tremendous advantage to using SimplyConvert's chatbot for intake comes in preparing for your firm's first live conversation with the client. With the facts of the case collected by the bot, you can ensure the right person from your firm conducts the initial meeting. For example, if a motorcycle case comes in and you have a paralegal or attorney on staff who is an avid rider it might be advantageous to have them be the first person to reach out to the client. Likewise, if a sexual assault case comes in and you have someone on your team that's trained in speaking with trauma victims, that person should have the initial meeting with the client.

Knowing the details of the case ahead of time also gives you time to conduct any research you may need before the first live conversation. Learning as much as possible about a case before the first meeting shows that you care about the client and you are invested in the outcome of their case.

Following these tips can help you make a great first impression on your clients, starting the relationship on the right foot.